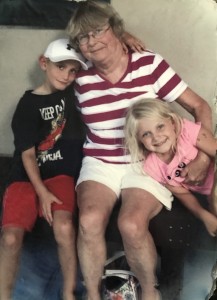 Barnwell – Angelia "Angie" Louise Lewis, 65 passed away September 15, 2017 at University Hospital surrounded by family. Funeral services will be Monday, September 18th at 11 am at Saint Andrew's Catholic Church, Barnwell, SC with the Father Wilbroad Mwape officiating. Burial will be at the Barnwell County Memory Gardens. Visitation will be held on Sunday from 6-8pm at Dyches Funeral Home, Barnwell, SC.
Angelia was born in Concord, NC to the late Betty James and Ray Johns. She was a dispatcher for Barnwell County for over 10 years. She was a member of St. Andrew's Catholic Church of Barnwell and a guardian ad litem. She loved the beach and sewing. She was a loving wife, mother, sister and grandmother and will be missed by many.
Survivors include her husband Rufus L. Lewis of the home. Two sons, Ray Lewis of Barnwell and Lee Lewis of N. Charleston. Two grandchildren, Kinsey Lewis and Abby Lewis. One sister Penny (Donny) Spitzer of Barnwell.
In lieu of flowers donations may be made to the St. Andrew's Catholic Church, 110 Madison Street, Barnwell, SC 29812
The family has entrusted Dyches Funeral Home and Crematory with arrangements.